Last week, I showed you
all the pretty ideas
I have for the nursery should this little one turn out to be a girl. Well, I've put them together as an idea board...
I found a substitute rug for the Pottery Barn Kids one in my original design -
this one
from Dash & Albert. I think I love it even more, and the best part is that it's quite a lot cheaper - $104 for a 4x6 (I think the PB one was $300).
Speaking of the original design (in case you're not sick of seeing this board!), here it is again...
As I've mentioned, I wanted to keep a similar feeling but without the wall color. I think it works, although there are a few things in the original design that I couldn't squeeze into #2 that I probably still want to keep - namely the decal, some of the artwork and that cute little owl lamp. The only reason I took the lamp out is because I couldn't find it online anymore, but I'm going to do a bit more searching before I give up on that one. And the crib might end up staying wood-toned, because I'm not sure how safe it would be to paint a crib yet. I do love the turquoise though!
Now I'll shut up about it for at least 3 weeks until we know for sure whether we're actually having a girl. Be prepared for a lot of similar idea shooting in more manly colors if it turns out to be a boy!
Linking this post to: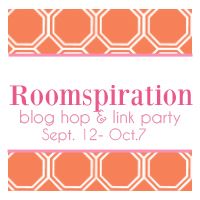 Feathered Nest Friday
@ French Country Cottage